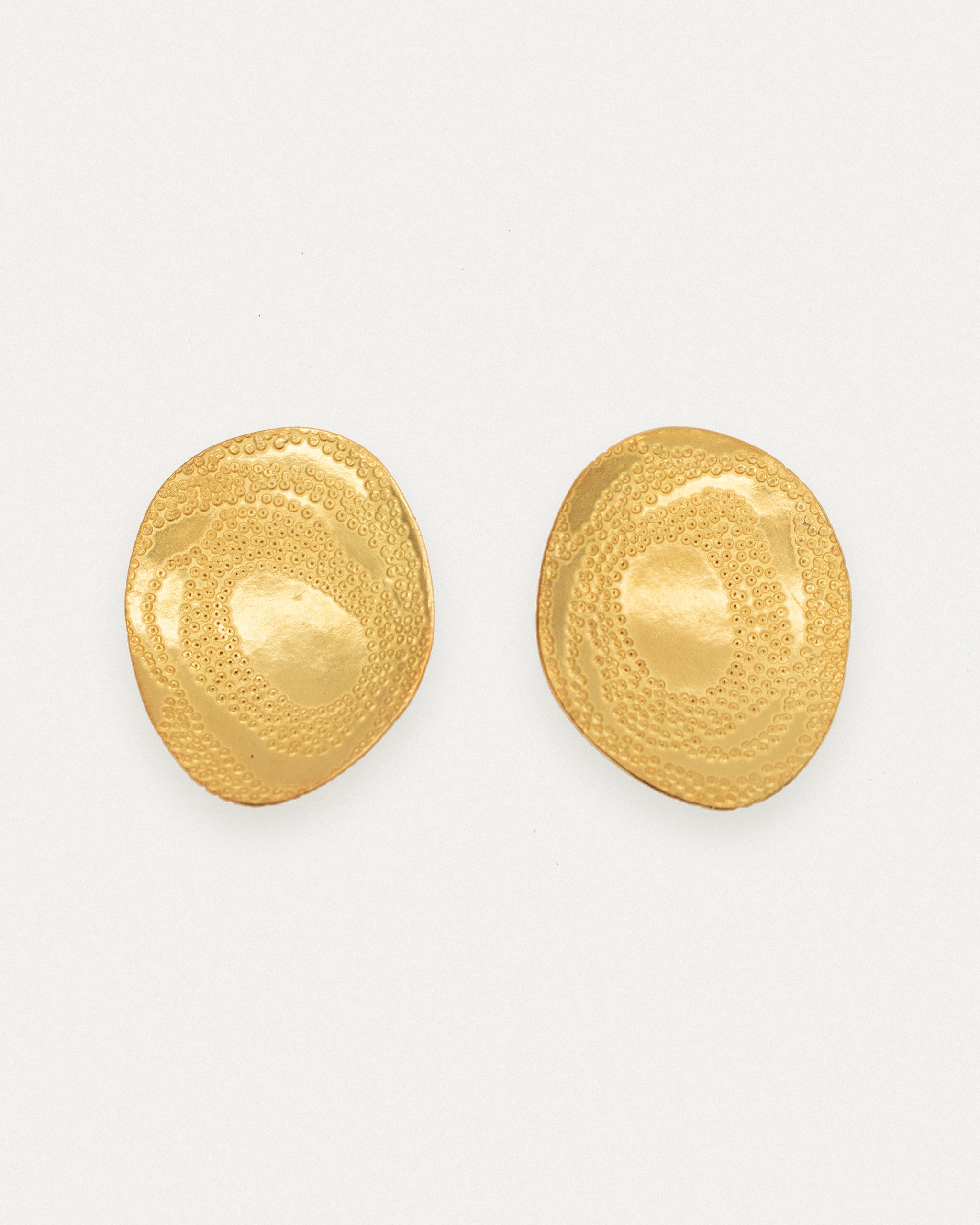 925 silver earrings
Dimensions –
34 x 27 mm
Weight ≈ 7.9 g
The collection
A collection inspired by moments. Of a state of being once forgotten, now found along a dotted path of memories, revealing a unique form of expression.
With the path now traced, the needle is guided by a state of self-revealing presence, and absence. The noise of hitting metal, or the sound of melting fire, is replaced by the silent eagerness of the needle that stings the delicate wax blade, over, and over again.
Imperfect lines occur, as imperfect as the human soul. While delineated metal pieces embroider patterns in the air. Awaking memories of the child crafting pierced paper drawings, in imitation of the grandmother working her ever delicate embroidery.
Within this intimate dialogue with the material, I find the immaterial, and the invisible. Empty space reveals itself in the act of weaving tiny holes, forming patterns that gift the work the lightness of soul found in happy moments.
Oma · Cosmos Earrings
Shipping & Delivery

Portugal Mainland – €5 (Free shipping for orders over €75)

EU, Azores & Madeira – €7 (Free shipping for orders over €200)

European countries outside EU* – €16 (Free shipping for orders over €350)

US & Canada – €21 (Free shipping for orders over €500)

For more information, please read our Shipping & Delivery policy or email us at info@paulavieirajewellery.com
How to care for your jewellery

Each jewellery piece is handcrafted through manual processes and requires delicate handling.

All pieces are made of precious metals which can naturally develop a darker patina over time due to oxidation. To slow down the process, remove your jewellery before shower and intense workouts as moisture and sweat accelerate oxidation.

Clean your jewellery regularly with a soft microfibre cloth. If needed, use warm water to remove impurities and pat dry the pieces with a soft clean cloth. 

To protect the gold plating and stones from damage, avoid direct contact with perfume, soap and other beauty products while wearing your jewellery.

Store the jewellery in a dry place, ideally in a soft-lined box to protect it from scratching and impact damage.
Need help?